MERCURIUS™ High Sensitvity BRB-seq kit
RNA-seq library preps from low-input, degraded and single-cell samples.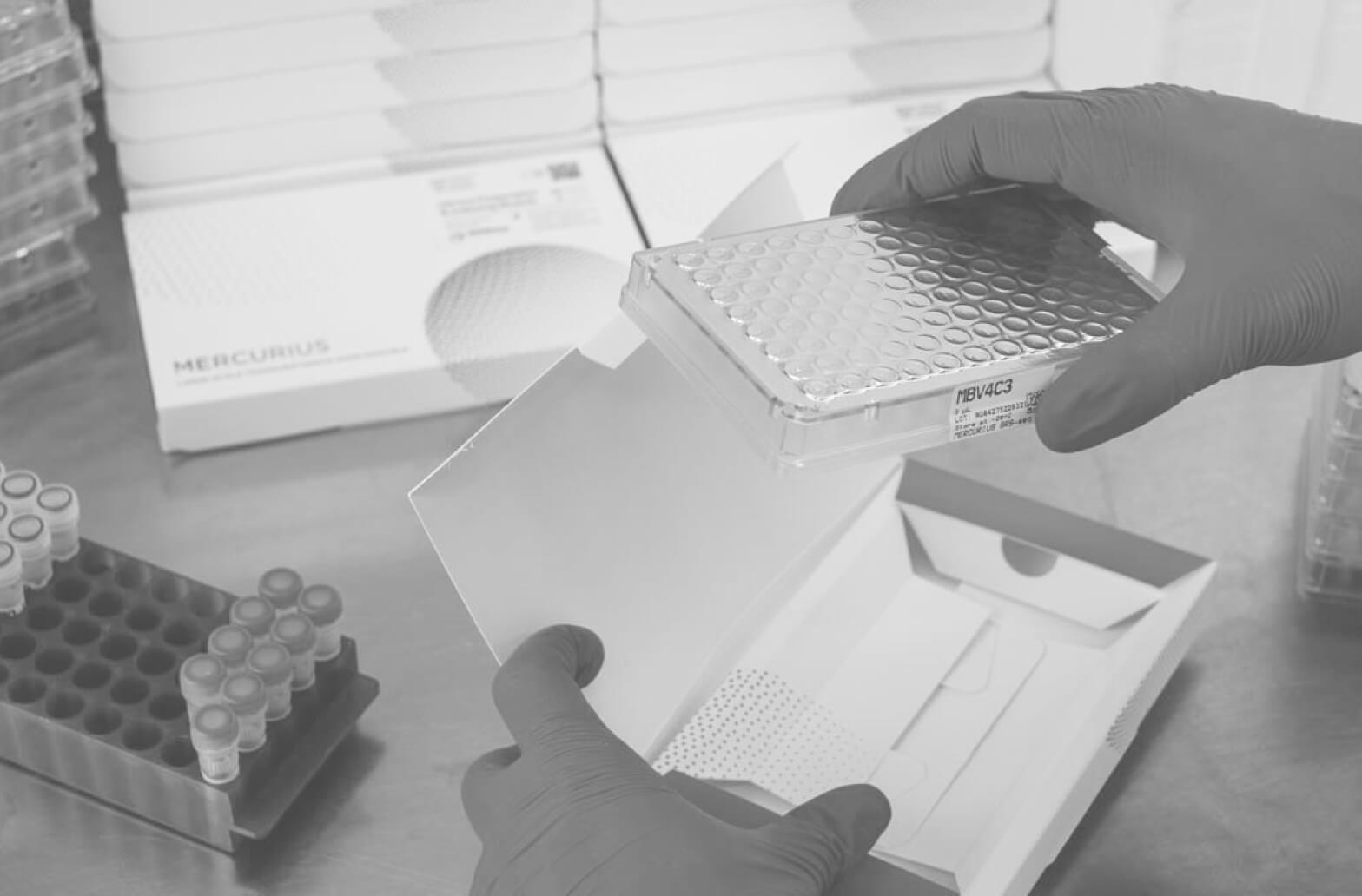 The MERCURIUS™ High Sensitivity BRB-seq kits contain all the oligos and enzymes needed to low-input RNA samples to high-quality gene expression data.
The generated 3' mRNA-seq data is ideally suited for differential gene expression analysis on small or degraded samples, such as single-cells, single-organoids and FFPE RNA samples.
As compared to other bulk 3' mRNA-seq solutions, BRB-seq makes it possible to process up-to 384 samples in one single tube, which helps to drastically reduce technical variation, turnaround times and costs. 
The particular aspect of the High Sensitiviy BRB-seq workflow is the use of a highly optimized protocol and modified TSO oligos, which enables a very low limit of detection.
Each kit contains enough reagents (including Unique Dual Indexing oligos) to prepare up-to three sequencing libraries.
After sequencing, the generated data can be easily demultiplexed and aligned to the genome of choice using our dedicated cloud-based pipeline, which does not require prior bioinformatic experience.
RNA sequencing for difficult samples
Robust gene counting even for small organoids, single cells and FFPE RNA samples.
Streamlined data analysis
Demultiplex and analyze BRB-seq data with our easy-to-use cloud-based pipeline.
No need for prior RNA extraction
An optimized lysis buffer ensure complete cellular lysis while maintaining comaptibility for downstream enzymatic reactions.
One-day lab workflow
From sample to sequencing-ready library in one day and proven compatibility with automated solutions.
How our MERCURIUS™ High Sensitvity BRB-seq kit will advance your research project
1. Reverse Transcription

2. Samples Pooling

3. Second strand synthesis

4. Tagmentation

5. Library indexing and amplification

6. Library QC and sequencing
Product Specifications
For use with (application)
Human and mouse cell lines. Organoids.
Each BRB-seq kit contains reagents (including three pairs of Unique Dual Indexing adapters) sufficient for the complete library preparation process for three different BRB-seq pools.

To note, the total number of RNA samples that can be processed with one kit does exceed the kit specifications; for instance, a 96-samples kit can be used to prepare up-to 96 samples distributed across up-to three different libraries.

The recommended range of input material is in the range of 5'000-50'000 cells.

The only difference between BRB-seq and standard RNA-seq data analysis is the demultiplexing step, which is used to assign sequencing reads to their sample of origin based on the BRB-seq barcode sequence.

For a thorough description of BRB-seq data processing, please refer to the BRB-seq kit user guide. In order to facilate as much as possible BRB-seq data analysis, we have also created a dedicate pipeline which can be found in our "SOFTWARE" page.

One of the key advantages of BRB-seq is that it does not only save reagents and cost in the library preparation stage, but also in the sequencing one.

As opposed to standard RNA-seq, where 20M-30M reads per sample are required, we normally recommend to sequence Cell Lysate BRB-seq libraries at a depth of 1M-2M reads per sample, which is normally enough to accurately detect up- or down- regulated pathways in a screening context.
Vivamus aliquet elit ac nisl. Cras id dui. Aenean tellus metus, bibendum sed, posuere ac, mattis non, nunc. Proin pretium, leo ac pellentesque mollis, felis nunc ultrices eros, sed gravida augue augue mollis justo. Phasellus blandit leo ut odio.

Integer tincidunt. Quisque ut nisi. Nunc interdum lacus sit amet orci. Curabitur turpis. Fusce neque.
Praesent venenati
Maecenas tempus, tellus eget condimentum rhoncus, sem quam semper libero, sit amet adipiscing sem neque sed ipsum. Aenean commodo ligula eget dolor. Etiam sollicitudin, ipsum eu pulvinar rutrum, tellus ipsum laoreet sapien, quis venenatis ante odio sit amet eros. Suspendisse pulvinar, augue ac venenatis condimentum, sem libero volutpat nibh, nec pellentesque velit pede quis nunc.

Phasellus dolor. Phasellus volutpat, metus eget egestas mollis, lacus lacus blandit dui, id egestas quam mauris ut lacus. Proin faucibus arcu quis ante. Maecenas malesuada.
Pellentesque ut neque
Speak with one of our RNA experts
Book a one-on-one call with one of our RNA experts to discover how we can assist your next project.