Cat #10850
Cat #10861
Cat #11061
Cat #10871
Cat #11071
Total reactions

How many library preps can be prepared in total with one kit

24
96
384
384
1536
RNA multiplexing format

How many samples can be multiplexed in one single tube

24
96
96
384
384
UDI pairs included

How many individual BRB-seq libraries can be pooled and sequenced together

1
4
4
4
4
Data analysis

Manual

Download Manual
Why choose our MERCURIUS™ Organoid Lysate BRB-seq library preparation kits for Illumina®
The Extraction-free Organoid Lysate BRB-seq kits contain all the oligos and enzymes needed to go from 3D organoids and spheroids to sequencing-ready DNA libraries
Ideal for screening projects
More samples, more replicates. Robust results, significant discoveries.
Streamlined data pre-processing
Demultiplex and align your BRB-seq data with our easy-to-use cloud-based platform.
No need for prior RNA extraction
An optimized lysis buffer for complete lysis and efficient reverse transcription.
One-day lab workflow


Convenient and short protocol from samples to sequencing-ready libraries in one day.
The generated 3' mRNA-seq data is ideally suited for differential gene expression analysis in the screening setting.
As compared to other bulk 3' mRNA-seq solutions, BRB-seq makes it possible to process virtually any number of organoids/spheroids in one single tube, which helps drastically reduce technical variation, turnaround times and costs. 
The particular aspect of the Organoid Lysate BRB-seq workflow is the addition of a proprietary lysis buffer, which enables complete lysis of the organoid/spheroid material while still being compatible with downstream enzymatic reactions.
Each kit contains enough reagents (including Unique Dual Indexing oligos) to prepare up to four sequencing libraries.
After sequencing, the generated data can be easily demultiplexed and aligned to the genome of choice using our dedicated cloud-based pipeline, which does not require prior bioinformatics experience.
Experimental workflow at a glance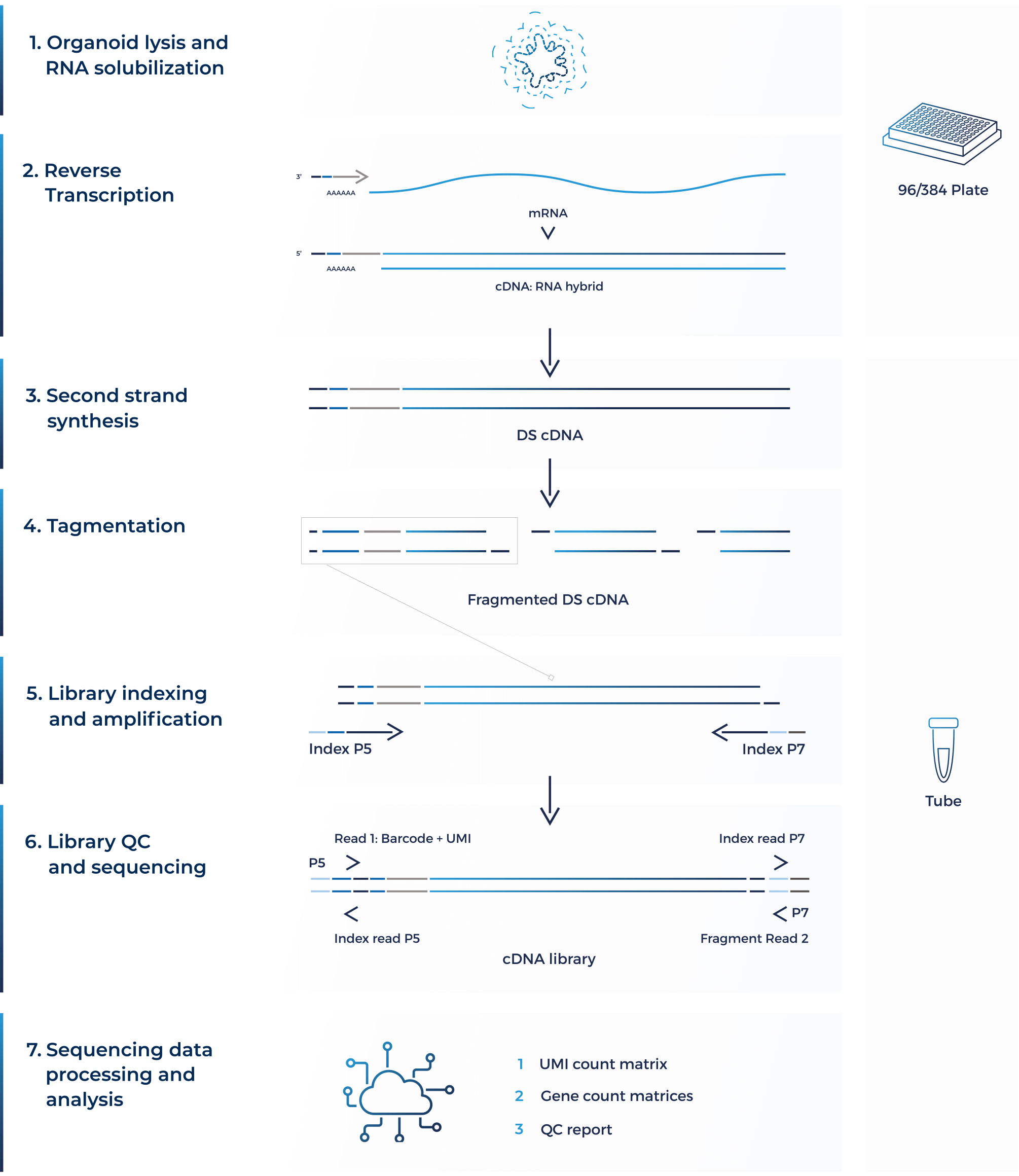 Product Specifications
For use with (application)
Human and mouse organoids and spheroids.
24, 96, 384, 1536 reactions
Each BRB-seq kit contains reagents (including four pairs of Unique Dual Indexing adapters) sufficient for the complete library preparation process for four different BRB-seq pools.

To note, the total number of RNA samples that can be processed with one kit does not exceed the kit specifications; for instance, a 96-samples kit can be used to prepare up-to 96 samples distributed across up-to four different libraries.

The recommended range of input material is in the range of 5'000-50'000 cells.

The only difference between BRB-seq and standard RNA-seq data analysis is the demultiplexing step, which is used to assign sequencing reads to their sample of origin based on the BRB-seq barcode sequence.

For a thorough description of BRB-seq data processing, please refer to the BRB-seq kit user guide. In order to facilate as much as possible BRB-seq data analysis, we have also created a dedicate pipeline which can be found in our "SOFTWARE" page.
Speak with our RNA sequencing experts
Book a one-on-one call with one of our RNA experts to discover how we can assist your next project.