Cat #10881
Cat #10891
Total reactions

How many library preps can be prepared in total with one kit

96
384
RNA and plate multiplexing format

How many samples can be multiplexed in one single tube

96
384
Barcoded oligo-dT plates included
1
1
UDI pairs included

How many individual libraries can be pooled and sequenced together

4
4
Documentation

Download user guide
Cat #10881
Total reactions

How many library preps can be prepared in total with one kit

RNA multiplexing format

How many library preps can be prepared in total with one kit

96
UDI pairs included

How many library preps can be prepared in total with one kit

4
Cat #10891
Total reactions

How many library preps can be prepared in total with one kit

RNA multiplexing format

How many library preps can be prepared in total with one kit

384
UDI pairs included

How many library preps can be prepared in total with one kit

4
The generated 3' mRNA-seq data is ideally suited for differential gene expression analysis.
High sensitivity for low-input RNA
From as low as 1ng/well.
Bulk RNA sequencing at scale
Perform up-to 384 RNA-seq library preparations in one single tube.
One-day
lab
workflow
Convenient and short protocol from samples to sequencing-ready libraries in one day.
Experimental workflow at a glance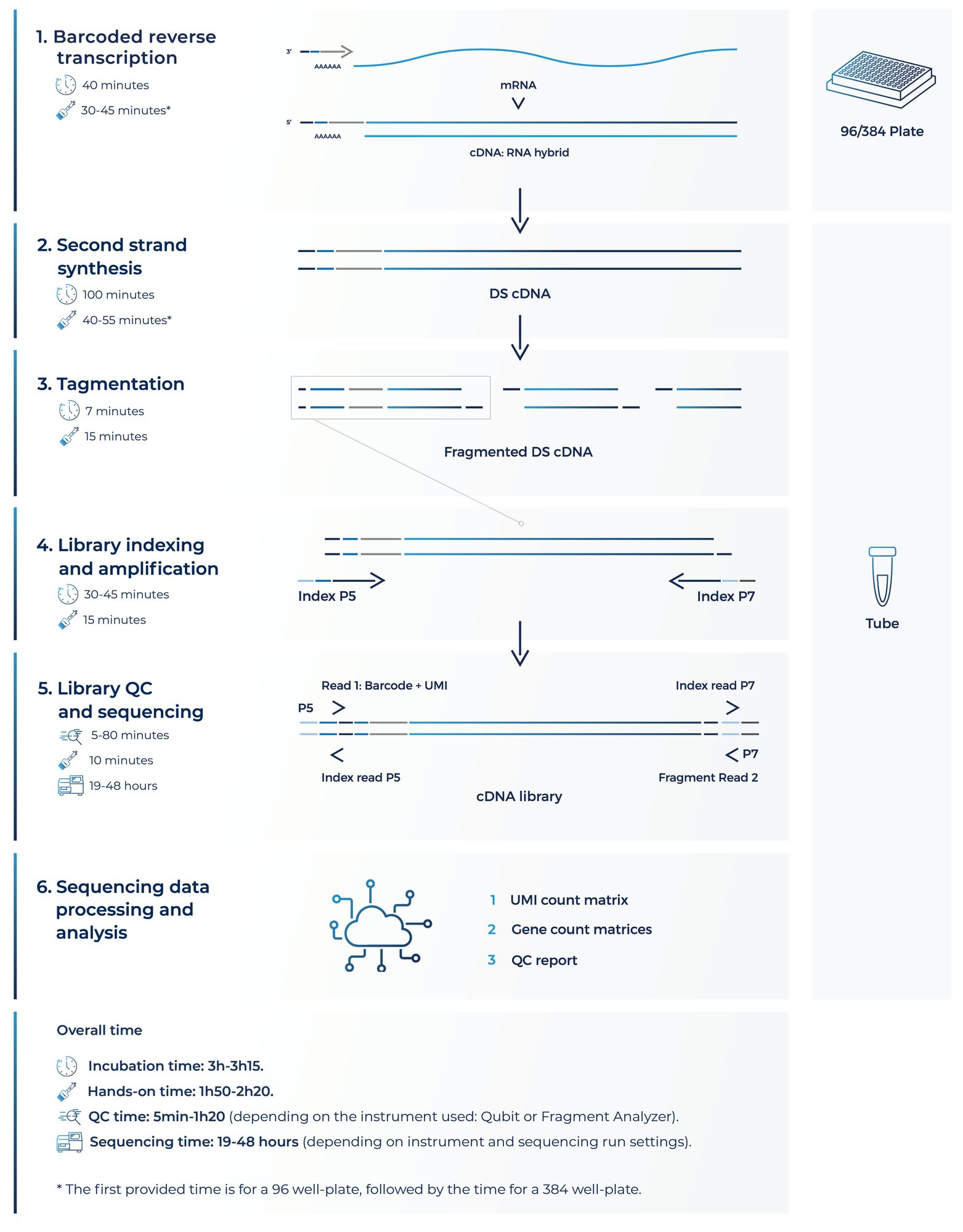 High Sensitivity BRB-seq or standard BRB-seq?
Selection guide

How to identify the best-performing BRB-seq method for your project.

Table 1. Recommended BRB-seq method depending on the RNA input per well

and the number of samples to be pooled.

Performance

Comparison of library complexity between BRB-seq and HS BRB-seq at the same sequencing depth.

Figure 1. Number of detected genes between standard BRB-seq and

High Sensitivity BRB-seq at different RNA inputs per sample.

96 samples were pooled together and sequenced at 2M reads/sample.

To note: all replicates were prepared from the same RNA sample.
Not ready to use our kits?
No problem, send us your samples and we will generate the data for you! Thanks to BRB-seq and DRUG-seq our service is the most cost-efficient and rapid solution on the market.